Northwest Indiana Nephrology's Home Therapy Coordinators, Paula Ray and Becky Strug, are changing the lives of NWI Nephrology dialysis patients for the better every day through home dialysis. The ability to perform dialysis from the comfort of their home, and to not have to travel to a dialysis center three days every week, has opened patients up to a more independent life. For Ray and Strug, helping patients reclaim that independence has been incredibly rewarding.
The Tour de La Porte (TdL) is a cycling, running and walking event benefiting patients with cancer in our community. 100 percent of the proceeds provide direct assistance to patients. The 16th annual event is scheduled for August 25, 26 and 27, 2017 and all events begin at Cummings Lodge.
Cardiac electrophysiologists at Community Hospital, Munster are first in Northwest Indiana to implant a new tiny pacemaker that requires no incision or skin pocket and has no lead. Need an MRI? No problem.
La Porte Physicians Urgent Care is turning your living room into your own private waiting room, with a convenient online check-in service. InQuicker online check-in is now available at laportehealth.com.
Our healthcare clients spend their days helping others, fixing problems, and saving lives. Each day they are faced with unique challenges and struggles, but more importantly, successes.
Hospitals of Community Healthcare System have received 2017 Get With The Guidelines quality achievement awards from the American Heart Association/American Stroke Association. The awards recognize the hospital staffs' commitment and success in treating stroke patients with the most appropriate, timely care according to nationally recognized, research-based guidelines.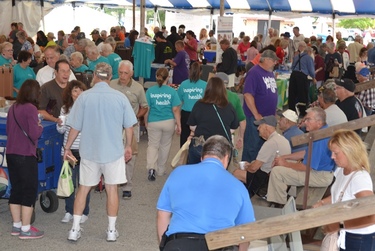 More than 500 attendees were on hand for the 15th annual Franciscan Health-sponsored Senior Citizens Day at the Lake County Fair Aug. 7. The program, in the Senior-Showcase Tent, offered information regarding the Accountable Care Organization, Franciscan Senior Promise, Franciscan Senior Health and Wellness, Franciscan Insurance Services, outpatient services, stroke awareness and palliative care.
Perhaps one of the best investments we can make is taking charge of our health. And while we can't always control what our bodies will do, especially when it comes to genetics, there are several steps we can take to help detect and prevent diseases.
The providers with La Porte Physician Network are here to help patients decide what screenings and immunizations they need at different points in their lives. Here are some to consider. La Porte Physician Network accepts most insurance, Medicare and Medicaid, and many services may be covered at no cost to you. Visit laportehealth.com and click on Find a Doctor today.
Screenings
Blood Pressure – Keeping your blood pressure within a healthy range can help you avoid heart and vascular disease in the future. Conditions like heart attack, stroke, clogged arteries, and heart...
Changes are coming to the 2017 Tour de La Porte (TdL) cycling event on Sunday, August 27, with brand new cycling routes and the opportunity to utilize the app Ride with GPS.
The Valparaiso Health Center of St. Mary Medical Center will offer $20 school physicals and $20 flu vaccinations Saturday, Aug. 26 as part of a Back to School Health Fair. The event runs from 10 a.m. – 12 p.m. at the Valparaiso Health Center, located just off Rt. 49 and 500 North at 3800 St. Mary Drive in Valparaiso.
Expectant mothers and their families facing high-risk or complicated pregnancies often need specialized care to guide them through their own unique challenges. A partnership between Community Hospital and The University of Chicago Medicine is bringing specialized Maternal-Fetal Medicine much closer to home making it more convenient for families.