April is National Donate Life Month. The hospitals of Community Healthcare System, in partnership with Gift of Hope and the Indiana Lions Eye Bank, will recognize the gift of organ, eye and tissue donation with events and activities at its three area hospitals: Community Hospital in Munster, St. Catherine Hospital in East Chicago and St. Mary Medical Center in Hobart.
Have you ever wanted to just escape for a day? Maybe you have had one of those weeks and just need to disconnect and relax. Do you have a lady's day to plan? Have a birthday coming up? Well, Spa Blu is right here in the region and has all you need to be the perfect match for all your spa needs. The team at Spa Blu keeps very up to date with all the hot new services and they asked that I come and try some of the latest new services they offer.
In recognition of the 2017 Pulmonary Rehabilitation Week, March 12 to 18, Hoyt Ervin and Misty Fancher were crowned the "Pulmonary Rehab King and Queen" during a special celebration at St. Mary Medical Center. Both patients are active members of the hospital's cardiopulmonary rehabilitation program.
La Porte County's most popular and largest health event returns in 2017 in a brand new location, at a new time of year, and with a fresh makeover that incorporates input from local fairgoers in the past.
A new telemetry/observation area opened March 20 on the second floor of Franciscan Health Crown Point. The unit, an expansion of the existing medical-surgical program, is a 22-bed facility with telemetry capabilities that will improve the efficiencies of patient bed placement through critical care departments of the hospital during times of high census.
The Indiana Breast Cancer Awareness Trust has awarded a one year, $20,000 grant to St. Catherine Hospital for a breast cancer screening and awareness program called, "Pink Passion."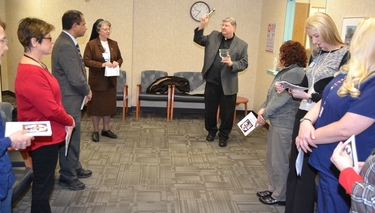 The Rev. Anthony Janik, director of Spiritual Care Services at Franciscan Health Crown Point, blesses with holy water the new satellite office of the Franciscan Health Dyer and Hammond Outpatient Behavioral Health Center, during a celebration at the 2050 N. Main St., Suite C, location on March 13. The Crown Point facility will have three therapists, a psychiatrist, a nurse practitioner and a medical assistant.
The Women's Diagnostic Center of St. Mary Medical Center received a donation of $5,000 from the Pink Ribbon Society to fund screening mammograms and breast ultrasounds for patients who are underinsured, along with providing Pink Pockets for breast cancer patients.
Northwest Indiana Nephrology's Dr. Kristoph Giricz was born on the southside of Chicago before moving to the region with his family as a teenager. Giricz and his family ultimately ended up in Schererville, where he now practices as a nephrologist.
Valparaiso YMCA and St. Mary Medical Center celebrated their first health fair as partners with free health screenings, medical professionals there to answer questions and a lot of free pens on Saturday morning.
Most Rev. Donald Hying, bishop of the Gary Catholic Diocese, visited and prayed with patients, among them Michael Meeks Sr. of Michigan City, at Franciscan Health Michigan City recently, during a Sacrament of Anointing of the Sick program.